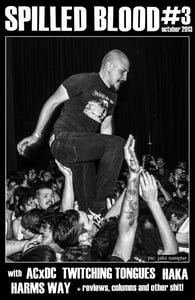 $

3.00
Featuring interviews with ACxDC, TWITCHING TONGUES, HAKA and a funny HARMS WAY interview I dug up from my friend's zine that was originally printed years ago.
This issue also features show reviews, photos and for the first time ever, a crossword puzzle. 36 pages of hardcore making it the longest issue of S.B. to date!
OUT OF PRINT. 100 were made.